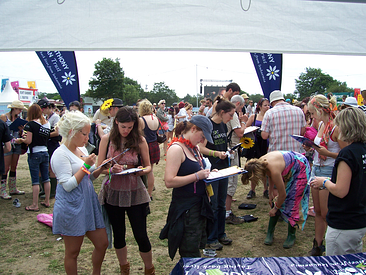 Last week, we unveiled an innovative award program that is designed to increase donor recruitment for Marrow Donor Registries. The DNA Genotek HLA Event Collection Award is designed to facilitate high-impact, event-based DNA collections using DNA from saliva. With this award program, DNA Genotek will provide saliva-based DNA collection kits and marketing materials to support a successful event-based collection. The program is intended for innovative event collection projects which may not be possible without saliva-based collection.
The winner will receive a prize package worth up to $8000 (US) which includes:
Marketing/creative support to create a successful event-based campaign including vertical banner stands, horizontal banners and printed handouts.
One DNA Genotek employee (event-based collection expert) for on-site assistance at the collection event including the travel and living costs for the DNA Genotek employee.
Up to 200 Oragene/saliva collection kits at no charge (format of Oragene kit to be agreed upon by DNA Genotek and winner)
Shipping of all items to the winner.
A complete description of the awards package and program is available here.
This is the first time we have made a program like this available to Marrow Donor Registries and we're very excited to share this news. Registries should complete the online application form by 5:00 pm ET (GMT -5) on July 16. 2012. The winner will be notified on August 1, 2012. For more information about the award program or to apply, visit the HLA Award Program web site.
So how can you get started? First, think of places where the people you want to attract to your donor registry gather. Do music festivals attract your target donors or are they more likely to be present at a sporting event? Could a city marathon bring them together or would a food festival make more sense? Once you've selected the event that best suits your target audience, you're ready to start the application process. The online application form is straight-forward and should only take about 15 minutes to complete. Thinking about applying? Start working on your proposal as soon as possible. Don't leave it too late.
Have questions on the award program? Email your questions to hla@dnagenotek.com or leave a comment below.