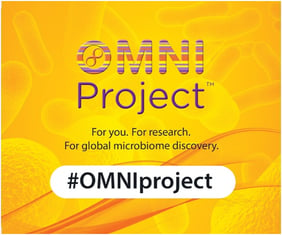 We are very excited to announce the launch of our new, comprehensive microbiome study. The OMNI Project will take an in depth look at the microbes that live on us and in us. In particular, for this first phase of the OMNI Project, we'll be focusing on the gut microbiome and the impact diet and lifestyle may have on the microbes found within one of the most populous microbiome ecosystems in the human body. We'll ask participants to collect stool samples and fill out questionnaires about what they eat and what they do. So pretty standard fare; there is nothing particularly groundbreaking in the overall research goals. So what does make the OMNI Project different from all the other human microbiome studies out there? Well, things get interesting when you start to take a closer look at how the study will be administered.
Alternative Recruitment Methods
One of the conferences on our "must go" list this year is a large international conference called Digestive Disease Week (DDW). This conference is the "world's largest gathering of physicians and researchers in the fields of gastroenterology, hepatology, endoscopy and gastrointestinal surgery." Over 15,000 people attend DDW, and because of the gut microbiome focus this year, we thought DDW would be an excellent opportunity to kick off the gut microbiome phase of the OMNI Project by recruiting 500 DDW conference attendees.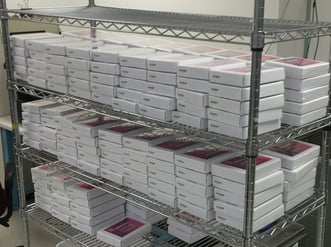 Participants will enroll in the study while they are attending DDW by completing simple eligibility surveys and informed consent forms using the custom built OMNI Project online study portal. They'll pick up their collection materials from the study staff, then head home to fill out the diet and lifestyle surveys (again via the secure OMNI Project Portal) and collect their gut microbiome sample using OMNIgene٥GUT kits. After sending the samples via regular mail (no ice needed!) to our processing lab, participants await their personalized microbiome reports. In return for participating in the study, individuals will receive a report teaching them about their own microbiome.
Participant Engagement Strategies
The OMNI Project online study portal is just one example of the participant engagement strategies used in this research project. The portal is a secure interface for participant registration, engagement and collection of metadata. It allows secure two-way communication between OMNI Project study coordinators and participants, so coordinators can answer participant's questions, provide clarification for study instructions and most importantly, share updates on the research progress. Participants in the OMNI Project will gain a better understanding of the microbiome and the role it plays in health and wellness, as well as see details about their own microbiome, further involving them in the research process. Participant-centric initiatives (PCI), like those used in the OMNI Project, empower participants to engage in the research. PCIs, which leverage on-line communication and facilitation methods are one approach to overcoming compliance challenges.[i] We're looking forward to testing how the PCIs we've developed and incorporated into the OMNI Project perform. We look forward to summarizing key learnings from this approach to share back to the research community.
Validated microbiome collection and analysis protocols
Additionally (and perhaps most importantly), we'll be using validated biospecimen collection and stabilization methodsii-v, as well as rigorous metadata collection, lab processing and analysis techniques. This will ensure that the data set will not only be easy for our bioinformatics team to work with, but any technical bias that might be introduced by collection, processing and analysis will be reduced and controlled for. Standardization is the name of the game for the OMNI Project and like the other components of this study we'll report what we've learned back to the research community. The sequencing results and accompanying de-identified metadata from the OMNI Project will be available for researchers around to the world to use to help with the global advancement of microbiome discoveries.
We hope the OMNI Project will foster international collaboration and not only contribute to microbiome research but also advance our understanding of things like effective microbiome study design, including effect sizes and confounding factors, alternative recruitment methods and participant engagement strategies. You can follow the study progress by subscribing to this blog, or by checking out the study hashtag on twitter, #OMNIproject.
The OMNI Project kick off is taking place at DDW in May 2016. If you are attending DDW and are interested in participating in this study please register your interest here. If you are not attending DDW but are interested in future phases of this study, please click here to sign up.
[i] Anderson, Nicholas et al. Participant-centric initiatives: Tools to facilitate engagement in research. Applied & Translational Genomics Volume 1, December 1 2012, pages 25-29.
iiSong, Se Jin et al. Preservation Methods Differ in Fecal Microbiome Stability, Affecting Suitability for Field Studies. mSystems Volume 1, Issue 3, May 3 2016, pages e00021-16.
iiiZeevi, David et al. Personalized Nutrition by Prediction of Glycemic Responses. Cell. Volume 163, Issue 5, p1079–1094, 19 November 2015.
iv Doukhanine. Evgueni et al. OMNIgene®•GUT enables reliable collection of high quality fecal samples for gut microbiome studies. DNA Genotek, Ottawa, Ontario, Canada PD-WP-00040. 2014-09-19.
v Doukhanine, Evgueni et al. OMNIgene®•GUT stabilizes the microbiome profile at ambient temperature for 60 days and during transport. DNA Genotek, Ottawa, Ontario, Canada. PD-WP-00042. 2014-09-24