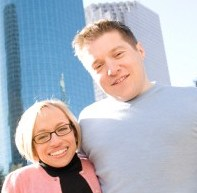 Since launching in December of 2009,
The Genetic Link
has kept its readers informed of a variety of unique ways in which DNA from saliva (collected with Oragene) is being used for genetic research and testing. Every day, I hear amazing stories of how our customers are using our products in the
research
and
clinical
community. This past week, I heard a story that I wanted to share with you. I hope you enjoy it.
You may be familiar with the hit reality TV show on the TLC network called 'The Little Couple'. This show features Bill Klein and Jen Arnold. Bill and Jen are just like your average newlyweds -- except for the fact that they're both under 4 feet tall. 'The Little Couple' is a new series for TLC that follows the couple as they embark on their new life together.
Read More