By Shauna White on June 2, 2014
2014-06-02

DNA Genotek is a recognized leader in the biostabilization technology field and today, we received a new honor for our work in this area. Our HEMAgene™•BUFFY COAT[1] stabilizing reagent received the 2014 Outstanding Product Award from the International Society for Biological and Environmental Repositories (ISBER) at their annual meeting in Orlando, Florida, USA. The ISBER Annual Meeting is widely recognized as the premier event in the field of repository and specimen management.
ISBER is the largest international forum that addresses the technical, legal, ethical, and managerial issues relevant to repositories of biological and environmental specimens. ISBER is a professional society of individuals and organizations who share an interest in promoting consistent, high quality standards, ethical principles and innovation in biospecimen banking by uniting the global biobanking community. ISBER invites all sub-components of government, academia, the private sector, and manufacturers to become active participants of the society.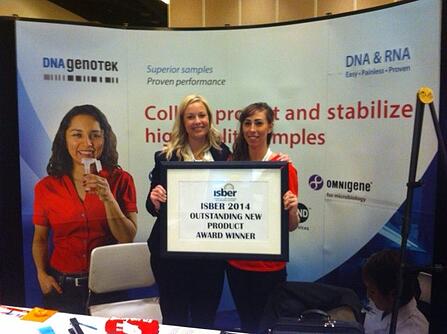 HEMAgene•BUFFY COAT was chosen as the award winner by an evaluation committee composed of ISBER members. The products being considered for the award were evaluated on four criteria:
Technical innovation and originality exhibited by the new product
Impact on repository operation, function, and potential value to the science and industry
Market opportunity - narrow or broad in scope
Quality of supporting data of function and fitness
HEMAgene•BUFFY COAT is a DNA stabilizing reagent designed for ambient temperature transport and room temperature archival storage, while enabling flexible sample management workflows. The product is designed to maximize the utility of fresh and/or archived buffy coat samples for downstream DNA applications.
HEMAgene•BUFFY COAT benefits include:
DNA from buffy coat is stable for long-term storage at room temperature
Simplify shipping logistics and decrease costs with elimination of cold chain
Eliminate risk of sample loss and degradation and reduce carbon footprint
Optimized for use with standard blood extraction solutions
Enable flexible aliquot schemes
Scalable solution for automated processing
DNA suitable for any downstream application
We are thrilled to receive this awarded from ISBER and we thank the evaluation committee and the entire ISBER team for this honor.
If you would like to receive a free trial version of HEMAgene•BUFFY COAT for evaluation purposes, please make a request here.
[1] HEMAgene•BUFFY COAT is for research use only, not for use in diagnostic procedures.