By Shauna White on Mon, Jan 11, 2010 @ 10:01 AM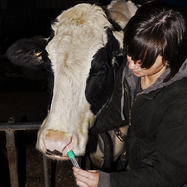 At the 2010 Plant and Animal Genome Conference in San Diego, DNA Genotek officially launched our newest sample collection product called Performagene•LIVESTOCK. Performagene•LIVESTOCK, a simple and easy-to-use nasal collection device for cattle, sheep and swine, provides high quality and high quantity DNA that remains stable at ambient temperatures.
Most genetic products currently used in the livestock industry are designed for parentage testing but the opportunity for significant gains in productivity is accelerating research into breed improvements. DNA samples collected with Performagene•LIVESTOCK can be used to identify markers for applications such as parentage as well as genotyping livestock for economically important traits including disease resistance, milk production, marbling and feed efficiency. This research allows producers to make more informed breeding and management decisions.
Why Livestock Genetics?
The livestock industry is facing more challenges than ever before. This makes it critical for producers to focus on successful strategies for their business. The biggest benefit from livestock genetics will be the ability to leverage genetic information to select and breed animals of superior quality.
All genetic analysis starts with the collection of a DNA sample. While genetic breeding in livestock is advancing at a tremendous pace, advancements in sample collection methods were not. This is where Performagene•LIVESTOCK comes in. Just like we did with human DNA collection, we developed a product that makes DNA collection easy, effective and reliable. This simple and easy-to-use kit follows in the footsteps of Oragene and Oragene•ANIMAL and will change how people think about DNA collection in the livestock industry.
To see how easy the product is to use, take a look at this video.
How is Performagene•LIVESTOCK Different?
Previous DNA sample sources in the livestock industry such as semen, blood, hair follicles or ear tissue have been inconvenient for the producer to collect or difficult, unreliable and costly to process in the lab. The major difference with Performagene•LIVESTOCK is that it is an integrated collection device that not only makes the sample collection quicker and easier for the producer, but actually starts the sample preparation while it's being transported to the DNA testing lab. This provides the lab with a ready-to-process sample that is very easy to integrate into their automated systems. The product is designed to merge the sampling needs of the producer with the processing requirements at the lab in one economical product. This reduces the cost of the entire DNA testing process and enables high-throughput DNA testing of livestock. Performagene•LIVESTOCK provides a reliable, high quality, high quantity DNA sample that performs exceptionally well on commonly used assays for parentage and genotyping such as microsatellites, SNP genotyping and microarrays.
Reviews from Livestock Producers
A December 2009 survey of producers validated that while blood or hair follicles are currently being used for DNA sampling, producers are open to new methods that are easier, more reliable or more cost-effective. DNA Genotek's Performagene•LIVESTOCK is hitting the mark. After using the product, 94% of those surveyed indicated that ease-of-use was the number one benefit associated with DNA Genotek's Performagene•LIVESTOCK product. 82% found the collection process quicker compared to their current method. A resounding 94% of those surveyed stated they would switch to Performagene•LIVESTOCK for their DNA collection. We always work closely with those that we develop products for to ensure that we are satisfying real needs. This feedback is validation that we translated the challenges we heard from producers into the creation of a product that meets their requirements.
We Owe Special Thanks
Launching a new product into a new market is challenging. We feel we're off to a great start with Performagene•LIVESTOCK but we couldn't have done it without the help we received from so many people. In particular, we would like to thank the following people for their incredible contributions: Donnie, Rhonda and Bruce MacLeod from Orchard Gore Farms; Bruce Mann, Dale Kelly and team from Saskatchewan Research Council; as well as Douglas Hedley.
We will provide you with further information on this product and updates from the Plant and Animal Genome Conference later this week in The Genetic Link. In the meantime, let us know what you think about this new product by leaving a comment.