By Shauna White on Tue, Jan 19, 2010 @ 10:01 AM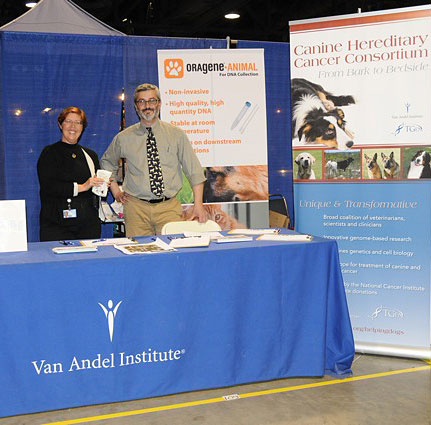 If you're a regular follower of DNA Genotek, you likely know that we are active participants in a variety of DNA collection events to support disease research. You might be familiar with our participation in Spit for the Cure breast cancer events or with our on-site collection at the National Walk for Epilepsy. But I'll bet you never imagined this type of DNA collection event would go to the dogs.
But this is exactly what happened. A few weeks ago, one of our customers approached us about on-site canine DNA collection at The Ninth Annual American Kennel Club/Eukanuba National Championship Dog Show. Dr. Nick Duesbery, of the Van Andel Research Institute, saw an opportunity to very quickly ramp up their canine DNA collection effort at the largest national dog show in the U.S. with the Oragene•ANIMAL DNA collection kit . The show presented them with an opportunity to collect DNA from a wide variety of dog breeds in a very short period of time. It was an opportunity not to be missed.
Dr. Duesbery is working on a project to study cancer susceptibility in dogs. Because many of the diseases that affect man's best friend also affect us, understanding canine cancer could have a profound affect on human cancer research. Compared with other animal models, the dog may also prove invaluable in the development of cancer drugs, because dogs develop cancers that share many characteristics with human malignancies.
Armed with boxes of Oragene•ANIMAL kits at a booth in the exhibit hall, Dr. Duesbery, the principal investigator of the study, and his research team set to work. They visited owners at grooming tables, in their booth, and even on the show floor. Keep in mind that these are show dogs and like humans, they get the jitters before big events. Despite pre-event nerves, owners were very receptive to collecting DNA from their dogs.
The result - 750 samples were collected. This is the largest number of canine saliva/DNA samples any canine research group has ever collected at an event.
So what's next? Well, Dr. Duesbery and his team hope to collect 10,000 canine samples in the next 3 years. He will do this by sending kits directly to the home of dog owners and with more event based collections like this one.
Dr. Duesbery commented: "The Oragene•ANIMAL kits provide a kinder and gentler sampling protocol for dogs. Pet owners can easily collect the DNA themselves at home or at dog shows. We were able to collect samples throughout the American Kennel Club/Eukanuba national event without creating any unnecessary anxiety for the animals. This is critical for successful canine DNA collection."