By Shauna White on Tue, Sep 14, 2010 @ 13:09 PM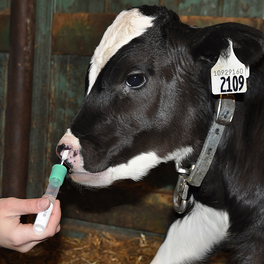 I'm very excited to tell you that Performagene•LIVESTOCK, DNA Genotek's product for collecting DNA from livestock using nasal samples, has been selected for the new GenoTest program launched today by Holstein Canada and Semex Alliance Partners. GenoTest is a full scale national program that offers genomic testing services on Illumina's 3K and 50K genotyping arrays. The program is designed to reduce the costs and complexity of genotyping to provide enhanced genetic evaluations for production, conformation and health/fertility traits for Canadian dairy producers while improving sample collection methods.
Nasal samples collected with Performagene•LIVESTOCK are faster to collect than other methods, are stable at ambient temperature and are prepared for processing while being transported to the lab. This use of Performagene•LIVESTOCK streamlines the entire DNA handling process from the producer to the laboratory.
The Performagene•LIVESTOCK product was included in a Holstein Canada/Semex pilot project in the summer in which producers tried nasal methods for DNA sample collection. Almost 75% of producers on the pilot project indicated that it was as easy or easier to collect DNA using Performagene•LIVESTOCK as compared to tail hair.
"One of the keys to widespread adoption of genomic testing is the availability of a reliable and cost effective means of collecting a quality sample," said Jay Shannon, breed improvement manager, Holstein Canada. "We chose Performagene•LIVESTOCK for the GenoTest program because our pilot program proved the product has tremendous potential to provide efficiencies in both collection and processing. The choice of Performagene•LIVESTOCK for the GenoTest program provides an optimal sample and the opportunity for broader usage of genotyping within and across dairy herds in Canada and abroad."
"Our involvement in the GenoTest program is the result of a shared vision for easier and more reliable livestock DNA collection combined with lower cost processing and analysis," said Ian Curry, president and chief executive officer, DNA Genotek. "The GenoTest program offers dairy producers a less expensive and highly accurate method of genotyping their cattle. We believe the use of nasal samples for a program of this scale has the potential to augment the value of livestock genomics for the industry and for individual producers."
DNA Genotek is committed to developing high-quality, non-invasive DNA and RNA collection devices. Like our Oragene family of products, Performagene•LIVESTOCK is now facilitating non-invasive DNA collection for the livestock industry. We'll keep you posted on developments for this product and for the GenoTest program here on The Genetic Link.