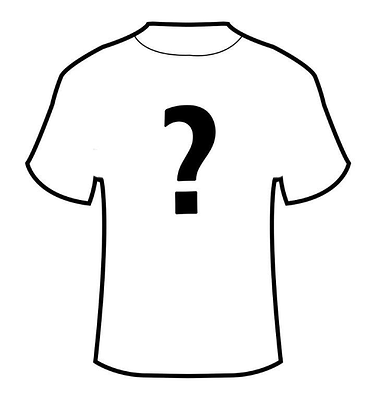 Once again, we are all very excited to attend the American Society for Human Genetics (ASHG) annual meeting in San Francisco from November 6th through to the 10th. We always look forward to this conference which brings together over 5,000 delegates from all areas of genetic research. We are pleased to be one of the 200 exhibiting companies and as such, we have planned a few special events. So, if you are looking to organize your agenda for this years' ASHG meeting, check these details out.
The winning T-shirt slogan
Each year our T-shirts are highly sought after and this year we decided to try something a little different -- we held a 'Battle of the Oragene t-shirt' contest. In the past, we've had some very successful slogans which have included "Spit Happens" and "The Oragene of Species". This year we asked for your input and we will reveal the new slogan, chosen by you, at ASHG. Drop by our booth #900 to learn which one made the cut and receive one of your own. T-shirts are first-come, first-served so get there early.
Wine, food & games event
It is our pleasure to be hosting a customer appreciation event filled with food, wine and games. Along with a selection of renowned California wine and food pairings, you will have the opportunity to play for a chance to win your flight to ASHG 2013 in Boston!
Event details:
Date: Wednesday, Nov. 7th, 2012
Time: 6:30 pm - 9:00 pm
Location: San Francisco Marriott Marquis, Foothill G1 – Second Level, 55 Fourth Street
If you'd like to join us for some fun, please RSVP online or drop by the DNA Genotek booth (#900) to register.
Scientific posters
Last year at ASHG we announced the DNA Genotek Grant Program. One of the recipients of the grant was a research team from Sickkids' Hospital. We would like to recognize our grant recipient by highlighting their scientific poster:
DNA Methylation Profiles of Paediatric Obsessive Compulsive Disorder (OCD), Poster: 3447T, Thurs, 2:15PM-3:15PM
There are many other posters being presented by our customers at ASHG. Below is a list of just a few.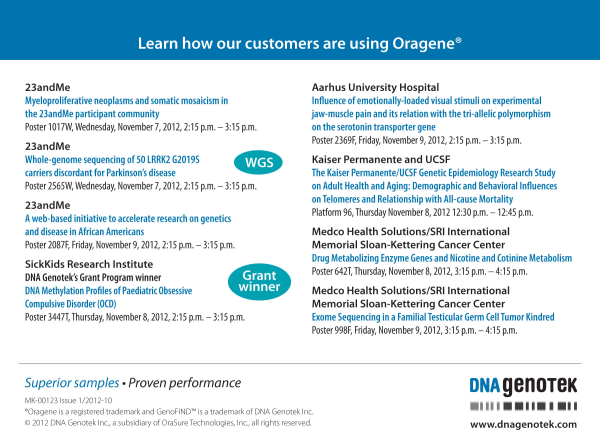 Take away notes
If you attend this year's ASHG, here's what we'd recommend you add to your agenda:
Visit us at booth #900, receive details about the winning t-shirt logo, complete a survey and receive a t-shirt.
Register and attend our customer appreciation event featuring wine, food and fun with a great prize give away
Check out the poster sessions and learn how our customers are using Oragene
We hope to see you there.