By Shauna White on November 13, 2013
2013-11-13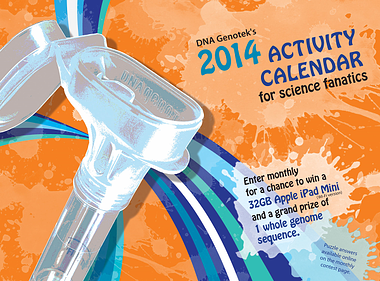 At the 2013 American Society for Human Genetics (ASHG) conference in Boston last month, we launched the first version of DNA Genotek's Activity Calendar for science fanatics. We wanted to provide ASHG attendees who visited our booth a way to celebrate scientific achievement in a fun way. The end result is a glossy, full color, 13-month desk calendar that features a variety of puzzles, challenges and games. Each month includes an online challenge which must be completed to be entered into a draw for a 32GB Apple iPad Mini (Wi-Fi version).
Many of the monthly calendar pages give you an inside look into DNA Genotek. Our employees are featured on several of the calendar pages and the challenges will bring a smile to your face. At the end of the year, we will select a winner of one whole exome sequence* from all the entries received during the 13-month calendar period.
Given the warm reception the calendar received at ASHG, we decided to make it available by request from now until January 31, 2014 (while supplies last). If you would like to receive your own copy of the calendar and be able to participate in the monthly challenges, please click here and request your own copy. Be sure to provide a complete and accurate mailing address so that we can get it to you.
Thank you to everyone who came by our booth at ASHG this year to pick up their copy of the calendar. Be sure to check your calendar for reminders on the monthly challenges.
*Whole exome sequence to be performed on the Ion Proton through DNA Genotek using a saliva sample collected with Oragene.