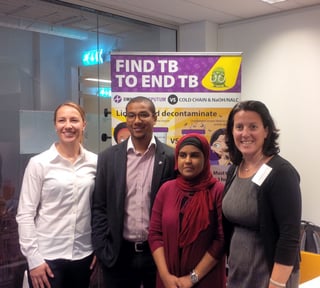 In this two-part blog series, we had a chance to speak to Khalide Azam, Head of the Mozambique National Tuberculosis Reference Laboratory (NTRL), Nureisha Cadir, FHI360-Challenge TB Technical Laboratory Officer, and Dr. Wilber Sabiiti, Senior Research fellow with the Infection – Global health implementation group, University of St. Andrews, Scotland, about how shipping raw sputum samples at ambient temperature can affect sample quality, and have serious impacts on the accuracy of the tuberculosis test results. We also spoke about the partnership between the University and NRL, the work they are collaborating on and how our OMNIgene®•SPUTUM product fits into their workflow. Dr. Sabiiti is the Principle Investigator of the OMNIgene•SPUTUM evaluation study in Mozambique with Mr. Azam and Ms. Cadir as Co-Investigators.
These are excerpts from our interview.
What are the current TB sample transport and quality challenges you are experiencing in Mozambique?
Khalide – Mozambique is a very long country in Southeast Africa. We have three National Reference Labs (NRLs) for TB, one in Maputo in south Mozambique, Beira in the centre, and one in the north. But the latter two labs we just opened in 2010. Since that time, we have tried to improve our capacity in the country. The lab in Maputo remains the main TB reference lab. We [the Maputo lab] receive most of our samples from the south but we also receive samples from other regions since TB laboratory capacity in these regions is still sub-optimal or non-existent.
What happens is that samples come from district-level sites, which are very far away from cities, and they are shipped to provincial-level facilities. Normally, this is done by car, motorcycle or whatever transportation is available to us at the time. This process can take between 3-5 days depending on the availability of transport. In many cases we don't have cold chain – [that is] cold boxes - so most of the time our samples are transported at ambient temperature and Mozambique is a very hot country, for example, today it's 39°C.
At the provincial level, samples from the district are batched until there is enough to send to the TB reference lab at the central level. This process can take an additional 3-5 days, which means that in real sense it takes between 5 and 7, or up to 10 days for samples to reach the TB reference lab, and most samples are transported without cold boxes [cold chain] to preserve them.
Nureisha – Just to add, according to an assessment I have done in the peripheral areas, when staff collect samples from the community, if there is no vehicle available then the samples remain at the peripheral health centre, and most are kept at room temperature. After 1 month, if no transport has been availed, they discard the samples because at this time they are considered putrefied and unsuitable for diagnostic purposes.
When the samples are waiting for transport, how are they stored?
Nureisha – They store them away from the sun inside the lab. In most cases, there is no fridge to store the samples.
Wilber – Samples are only transported cold once they have reached provincial level; [in other words] cold boxes are only involved when shipping from the provincial facility to the NRL. Prior to that, samples are kept at room temperature. Although documents, such as the WHO standards, recommend the use of cold boxes, the reality is that not all the laboratories have cold boxes.
Would all the labs have air conditioning?
Wilber – The peripheral labs in the districts may not have air conditioning. Some may not even have electricity. Some might have a simple fan to keep the room cool. It varies from lab to lab, especially in the peripheral areas. Maputo is a National Reference Lab so it has some of the best facilities, but the labs in the peripheral areas do not have these facilities.
If it's 39°C today in Maputo, how warm does it get in the lab? What is room temperature?
Wilber – They have air conditioning here in the lab but when we go outside it is as if we are being cooked.
Khalide – The weather here is a critical point because we are talking about Maputo, where I consider that the weather is very good because at the end of the day it becomes fresh [cooler], but nearer the centre of the country, provinces like Tete have daily temperatures between 40°C and 43°C in summer.
Besides not having air conditioning, what do you find are challenges of limited-resource labs?
Wilber – Not having electricity and regular supply of water are big challenges.
Khalide – Another concern is the infrastructure itself because most peripheral labs don't just deal with TB. A typical clinical laboratory conducts tests for all disease conditions in the same room. For example tests such as smear microscopy for TB, malaria, and biochemistry are often done in the laboratory. Everything is done in the same lab so this raises issues of biosafety and infection control.
Wilber – The clinical labs operate differently from specific labs that have some kind of research component. A clinical lab deals with every sample that comes in, whether for malaria, TB, HIV diagnosis, everything in one small room. Another problem is high risk for the health care workers because they are exposed to samples without enough protection, and some of the samples might contain infectious organisms like TB.
Nureisha – And in the same room is where they collect samples from patients both adults and children.
Do you have sites that are more challenging than others?
Wilber – Mozambique has one of the longest coastlines in Africa, so coordinating with the labs, even at district level in the south, is not that easy. The Maputo NRL is also responsible for the reference labs in the centre and the north. So Khalide, if you were to travel by road to Beira or Nampula, how many days would you need?
Khalide – One day to Beira and 2 days to Nampula.
Wilber – And that is just driving non-stop.
Khalide – The size of country and the weather are challenging, but during the rainy season the situation is worse because road conditions become very poor. Sometimes it's difficult to reach the district because there is no tarmac, so the samples remain in the district longer because no one can reach the lab.
Wilber – I think OMNIgene•SPUTUM is coming in at the right time as the future solution. DNA Genotek is a commercial company, but it's good that you are looking at this public health issue. The outright solution for TB diagnosis and treatment is the ability to empower health care facilities in the periphery to be able to do some of the basic but essential diagnostics for TB and to prepare samples. If indeed the OMNIgene•SPUTUM reagent is able to keep samples very stable for a long time at ambient temperature then this will simplify the sample referral and delivery process. This means that even if samples [treated with OMNIgene•SPUTUM] take 5 days to arrive at the NRL, they will still be of high quality. Contrasting this is the process whereby you don't know what has happened after 5 days; you don't know whether you will have a good sample or whether it [the causal organism, Mycobacterium tuberculosis] will be dead. So I think this [ensuring that high quality samples arrive at the lab] is a way this reagent can be of much help.
Watch for part 2 of this blog series, which is coming soon.