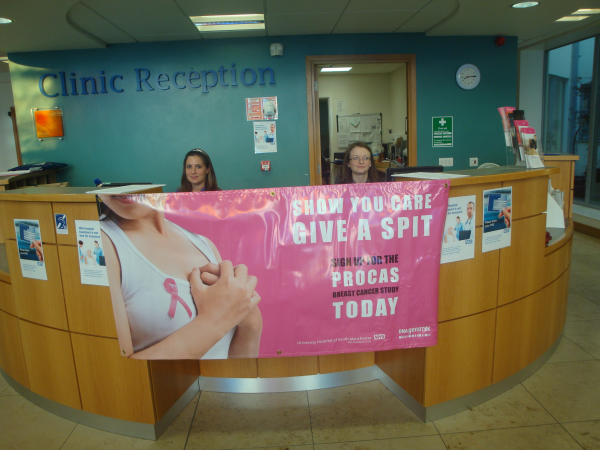 Professor Gareth Evans of the University of Manchester is heading up a major research study, which is being carried out throughout Greater Manchester. 60,000 women are being invited to join a study, named PROCAS, which aims to predict breast cancer risk for women who attend routine NHS breast screening in Greater Manchester. A woman's risk is assessed by collecting extra information on each of the most important breast cancer risk factors – family history, lifestyle factors, breast density and genetics.
Each woman is asked to complete a short and simple questionnaire that asks about family history and lifestyle factors. Extra assessments are also carried out on the mammogram, to calculate how dense the breasts are, and some women can, if they choose, provide a saliva sample (using Oragene•DNA), from which DNA will be extracted and analyzed, to assess for genetic risk factors. Women will be seen at their routine mammogram appointment, so participation in the study does not require any extra visits.
In order to take part in the study, women must:
Live in Greater Manchester
Be part of the NHS breast screening program
Be invited for routine screening in the next 3 years
In order to boost the number of participants in the study, the PROCAS team wanted to conduct some special events to attract women from their target population. Over the past year, the study team conducted several events with special activities designed to attract representation from their target population. The study team contacted DNA Genotek to ask for advice on how to encourage participation in the DNA collection portion of the study. DNA Genotek's marketing team went to work on designing special signage and posters to be used at the events. The "Show You Care – Give a Spit" theme resonated with the women in attendance and the events significantly boosted the number of participants in this study. Overall, the events have been very successful and will continue in 2012.
This is the largest study of its kind in the UK, and the results could impact on the whole NHS Breast Screening Program. Using a non-invasive method of DNA collection with saliva facilitates event-based collections easily. The use of Oragene•DNA is helping the study team meet their recruitment objectives for this important study.
The PROCAS study is being run from the Nightingale Centre & Genesis Prevention Centre, Wythenshawe Hospital, in association with the University of Manchester and St Mary's Hospital, Manchester. The study is funded by the National Institute for Health Research Programme Grants for Applied Research programme, with additional support from The Genesis Appeal.
Are you planning a study that could benefit from non-invasive DNA collection? Let us know and we'll do what we can to help you meet your recruitment objectives.