By Shauna White on Fri, Mar 19, 2010 @ 10:03 AM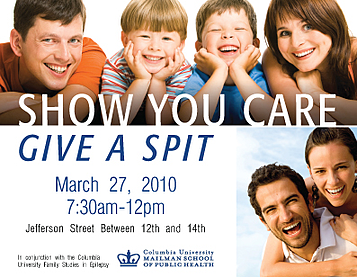 For the second year in a row, DNA Genotek will be collecting DNA samples onsite at the National Walk for Epilepsy on March 27th, 2010 in Washington, DC. Our participation in this event supports the efforts of the Columbia University Family Studies in Epilepsy Program and their study which is designed to identify genes that play a role in causing epilepsy.
The National Walk for Epilepsy is the largest of its kind nationally that is dedicated to increasing awareness of epilepsy and raising funds to support epilepsy programs, education, advocacy and research. The venue attracts more than 8,000 participants who are personally invested in helping find a cure for the condition and presents an excellent opportunity for Columbia University to accelerate its research by providing access to significant numbers of candidates who satisfy donor profile requirements.
This scale of onsite DNA collection would not be possible without our Oragene/saliva collection kit. Oragene enables easy and non-invasive self-collection of saliva samples from large numbers of people and delivers high quality DNA. The samples remain stable at room temperature for years enabling our customers to collect hundreds or even thousands of samples at an event like this and not have to worry about the storage temperature or degradation in quality of the sample.
This event is part of our DNA Genotek Helping Hands Program which is designed to assist organizations that are innovators in disease research, disease prevention and treatment. Within this program, we apply our technology and expertise to accelerate DNA sample collection or treatment and prevention of disease. The goal of the program is to help our customers' research and advance the fight against disease across the globe.
This year, I will personally be on-site for this collection event and I couldn't be more excited. As the event unfolds, I will update you on the status of the collection, tell you what I experienced and share what I learned.
We're hoping for a record turn out at the 'Give a Spit' booth and you can help. You can join the hundreds of families that participate in this research program and make a critical contribution to understanding the causes of certain seizure types. Families and scientists, working together, can find the causes of epilepsy and improve treatment.
So if you happen to be in the Washington, DC area on March 27th, drop by the National Walk for Epilepsy and come to the 'Give a Spit' booth. You can find us on Jefferson Street (between 12th and 14th).
To learn more about the Family Studies in Epilepsy at Columbia University, visit their Web site.