2019-03-04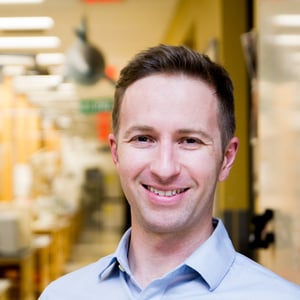 UPDATE: On May 12, 2020, CoreBiome rebranded as Diversigen Inc.
As a reader of The Microbiome Snapshot, you are likely aware that our parent company, OraSure, recently acquired CoreBiome, a privately-held, Minnesota-based microbiome services provider that accelerates discovery for customers in the pharmaceutical, agricultural, and research communities. Many of you may also be aware of the strong reputation CoreBiome has as a leading service provider in the microbiome field – specifically for reducing costs while maximizing output for microbiome discovery.
In this blog, we share the highlights from a recent podcast interview with CoreBiome co-founder Dr. Dan Knights. In the podcast, he discusses the problems CoreBiome was built to solve and the challenges surrounding reproducibility in the microbiome field. You'll also learn why he "geeks out" about quality, efficiency, and accuracy and how his team keeps CoreBiome at the forefront of the microbiome industry.
The full podcast is available below and I've included some highlights below:
1. Why people need more data and better data and shouldn't have to choose between high resolution output and a large sample size.
"It is possible to reduce cost without sacrificing quality and enabling larger, better powered studies using shotgun sequencing and more robust methods."
2. Why it's important to lock down protocols to address the reproducibility challenge.
"The real challenge is understanding the source of variability in data and eradicating that at the root, figuring out why people are getting different answers and learning what the right answer is."
3. How shotgun sequencing can be affordable for everyone while highlighting that it's critical to reduce cost without sacrificing quality.
"…with our metagenome BoosterShot™ platform any researcher can now switch over to shotgun sequencing for all their future projects … to get big data and good data at the same time."
4. Why he likes to geek out about quality, efficiency and accuracy and how his team keeps CoreBiome at the forefront of the microbiome industry.
"As a scientist I want to know that my samples are in good hands and the team working with the samples are dedicated to accuracy and reproducibility and can generate good data that I can trust…. At CoreBiome we are determined to hire experts in every step of microbiome analysis."
5. And finally, what he would call his spirit or perhaps favorite microbe. Can you guess? Here's a clue.
"If I had some in front of me, I would definitely eat it."
For more information on how Dr. Knights and the team at CoreBiome can help you with affordable, high quality shotgun sequencing, please email us at info@dnagenotek.com