2012-10-16
The Genetic Link
welcomes guest blog authors. This guest submission is from Dominique Fizet of the
l'Établissement français du sang (EFS), Aquitaine-Limousin, à Bordeaux.
We welcome Dominique as a guest author and we hope you enjoy this article.
France's national agency for bone marrow transplants, the France Greffe de Moelle Registry, manages bone marrow donors from all over France, which currently numbers over 200,000. To many people, this number seems large. To those in need of a bone marrow transplant, the number can be insufficient. Each year, 2000 people in France with serious blood diseases (leukemia, lymphoma) can be treated with a bone marrow transplant, giving these patients an additional chance of recovery. The demand for bone marrow transplants grows each year and with the chance of a match between a donor and recipient at 1 in one million (and more difficult for certain ethnicities), an even larger database of donors is required to meet demand.
The France Greffe de Moelle is managed by l'Agence de la Biomédecine, which is linked to the French Health Ministry. l'Établissement français du sang (EFS), where I work, is the operator of blood transfusion services in France. Under the supervision of the Health Ministry, we collect DNA samples from donors to help meet the needs of patients requiring bone marrow transplants.
The EFS is always looking for new ways to grow the number of bone marrow donors. Recently, we tried a new initiative designed to bring us more donors. On September 8, 2012, we held an amazing event that brought more new donors than we expected. The event was called "Partage de Vie" and was organized by myself and my colleague, Laurence Guinaudeau, who is in charge of communications. It was designed to bring our message to the street to inform the general population about bone marrow donation and recruit as many new donors as possible. We set up a display along the very busy rue Sainte-Catherine in Bordeaux, provided music and a variety of fun events designed to capture attention. All organizers were wearing the same t-shirt with Patage de Vie logo.
We had 3 main stations on the street to help deliver our message to the people passing by. The first was a group of informational panels that explained what bone marrow transplants are in a very simple, easy to understand way. A second station highlighted the success of our bone marrow donation program showcasing poignant exchanges between donors and recipients who received transplants. The third station was for recruitment to our registry.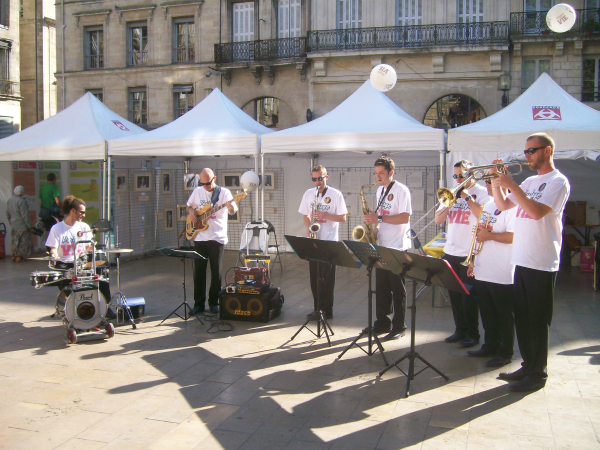 Typically, when we collect DNA samples from donors, we ask for a blood sample. For this event, we decided to use Oragene saliva collection kits to see if it would improve our recruitment numbers. Our goal was to recruit at least 50 new donors during at the "Partage de Vie" event. Did we meet our goal? At the end of the day, we had collected 107 saliva samples with Oragene on site and had requests from 122 additional people to join the registry. Overall, we were thrilled with the results and I believe the use of the Oragene saliva collection kits was instrumental in this success. The kits facilitated easy collection in an outdoor environment; it was much faster and easier to collect saliva samples than blood samples. We still required a medical presence to detect contraindications and to ensure that donors understood the nature of their engagement but we didn't require a doctor or nurse to collect the sample. The response from participants was equally positive. Most donors were very happy that a blood sample was not required to join the registry and several brought friends and family to join once they realized that only a saliva sample was required. This step made the process less alarming and more convivial.
We had previously used the Oragene saliva collection kits to build the French registry with underrepresented populations as the non-invasive collection method allowed us to meet them in their own environments. As the Oragene kits worked extremely well for us at all those events, we look forward to using them for similar events in the future to help grow the registry.
Are you interested in trying Oragene for an event collection? Request your trial kits below