2013-05-16
We are very excited to tell you about a new initiative we announced today as part of the DNA Genotek Helping Hands Program. Spit for Africa is a new sponsorship program in conjunction with the African Society of Human Genetics (AfSHG). Spit for Africa is designed to improve access and reduce the cost of DNA collection for locally and internationally funded genomic projects such as the Human Heredity and Health in Africa (H3 Africa) Initiative and to facilitate growth in membership of the AfSHG.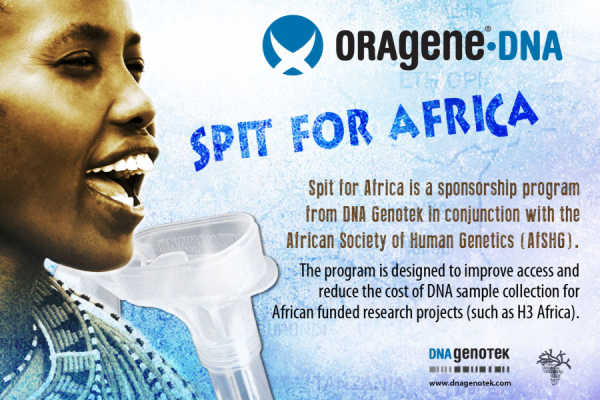 The aim of the AfSHG is to build the capacity of African researchers and institutions and create an infrastructure that can support and sustain that capacity. AfSHG is an active participant in H3 Africa which supports population-based genetic studies in Africa of common, non-communicable disorders such as heart disease, diabetes and kidney disease, as well as communicable diseases such as trypanosomiasis and streptococcal infections.
The Spit for Africa program has three main objectives:
Provide a long-term health impact on the African population and cover a diverse range of health issues;
Accelerate research and advance the fight against disease;
Apply technology to break down barriers that impede DNA sample collection.
Under the Spit for Africa program, DNA Genotek will donate $1.00USD for every Oragene.DNA collection kit sold to African funded research projects back to the AfSHG to help support member activities. In addition, all purchases of Oragene.DNA collection kits for African funded projects will receive discounted pricing to maximize the value of the research budget. In order to take advantage of the Spit for Africa program, purchasers must be members of the AfSHG. As part of the program, DNA Genotek will fund the AfSHG membership for participants who are not already members of the society.
"Collaborating with DNA Genotek on the Spit for Africa program allows us to further grow our membership while continuing to suggest ways in which modern genetic research methods can be adapted to the special conditions in Africa," said Melanie Newport, PhD, Secretary of the AfSHG. "The Spit for Africa program will also help address the widening gap between Africa and the Western world in genetic research by developing resources and knowledge inside Africa."

"We recognize that collecting DNA samples in many areas in Africa would be a tremendous challenge without the ambient temperature stability of Oragene.DNA," said Ian Curry, president, DNA Genotek Inc. "Our Spit for Africa program is designed to make Oragene.DNA more accessible to researchers in Africa so they can conduct the research necessary to better understand the genetics of both communicable and non-communicable diseases. In addition, we feel it is vital to support the important work being done by the AfSHG to build and sustain genetic research within Africa."
For more information about the Spit for Africa program, please click here. To apply for the program, click here. The program is open to qualified applicants until May 15, 2015.