2013-10-22
Oragene is truly a DNA collection device that has a global impact. Currently, Oragene is used for the non-invasive self-collection of DNA from saliva in more than one hundred countries and on six continents. As a salesperson at DNA Genotek, I have the privilege of working with some of the world's leading researchers who are studying every aspect of genetics from mental illness to cancer, and from chronic health issues to the very rarest of diseases. My favorite part of my job has always been helping researchers find solutions for projects with complex collection logistics, especially those that transcend international boundaries.
One of these projects is led by Dr. Khai Chung Ang, a researcher studying the genetics of human skin color and susceptibility to melanoma, the deadliest form of skin cancer. Based at Penn State College of Medicine in Hershey, Pennsylvania, Dr. Ang and team have been utilizing Oragene to assist in the collection of DNA samples from ethnic populations on opposite ends of the world. Dr. Ang's research investigates the molecular and cellular mechanisms of East Asian and Amerindian peoples' pigmentation as phenotypically, the susceptibility to skin cancer in these populations do not behave in a linear fashion between those of European ancestry (lighter skin) and African ancestry (darker skin). As a result, Dr. Ang set out to collect one thousand DNA samples from three different populations: a Malaysian population to represent East Asians, an Amerindian population in the Commonwealth of Dominica in the Caribbean, and participants in the United States.
With the prospect of having to collect DNA samples in three unique countries and ship samples back to the United States for processing and analysis, Dr. Ang turned to DNA Genotek and the Oragene collection platform to address the logistical complexities:
Maximizing donor participation in the field.
Donor participation is critical because time and money are spent traveling to foreign locations to obtain DNA samples from populations.
According to Dr. Ang, "a lot of people loved the kit [Oragene] because it's non-invasive" resulting in high compliance rates as most people agreed to give a sample. "If anyone declines," he explains, "it's because they did not want to give their samples, not because of the collection method."
Working in locations with limited infrastructure and resources to collect and store samples.
Obtaining DNA samples from blood requires trained Phlebotomists and refrigeration to store samples post-collection. For Dr. Ang, Oragene's "easy handling" and "room temperature stability" eliminate both of these problems and make it "very easy to collect samples from the field without worrying about DNA degradation" (which can occur with blood, for instance, if not properly refrigerated in a timely manner post-collection).
Shipping DNA samples across international borders.
Because saliva is an exempt human specimen that is considered non-infectious and non-hazardous, it often bypasses the barriers present at international Customs that exist for potentially-hazardous biological samples such as blood. With respect to Oragene and sample transport, Dr. Ang states that "it's easy because the kits can be checked-in and transported through Customs without extra permission" which he attributes to saliva being a non-hazardous biological sample.
Obtaining high quality and quantity DNA samples for complex analyses.
To extract DNA from the saliva sample, Dr. Ang uses DNA Genotek's prepIT●L2P sample preparation kit and protocol which he describes as "simpler and faster" than other extraction processes. The result is DNA samples that are "very good in quantity and quality" which "matches those from blood". With the DNA obtained from the Oragene kit, Dr. Ang intends to perform a series of complex analyses including genotyping and whole genome sequencing.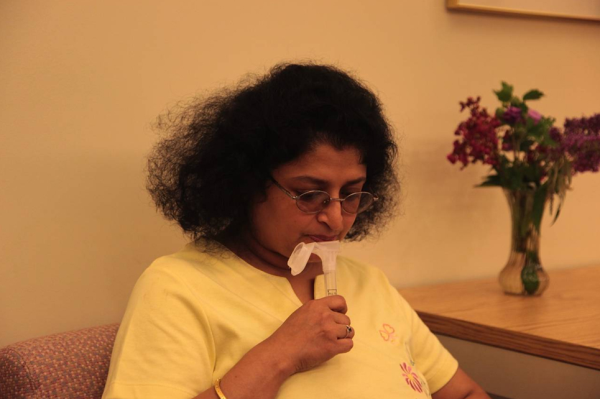 To date, Dr. Ang and team have collected several hundred samples. His team will obtain the remainder using a combination of centralized and additional field collections. Upon completion, this research will address questions and hopefully provide some answers to the skin lightening mechanisms surrounding East Asians and the differing melanoma susceptibility between Europeans vs East Asians. Here is a great video that shows more about this research.
Today, research is more collaborative than ever and there is an increasing demand to expand collections internationally through multi-institution projects and multinational consortia. Studies like the one conducted by Dr. Ang will add to the list of projects that demonstrate how Oragene is a useful platform for these complex, collaborative, international efforts.
Special thanks to Dr. Ang for sharing information on his project and some fantastic photos with DNA Genotek and the research community. Learn more about Dr. Ang's research here or visit www.facebook.com/eascop