2022-11-04
The American Society of Human Genetics (ASHG) conference—a partner conference to the European Society of Human Genetics (ESHG) conference—is one of the largest annual international meetings of human genetics researchers and professionals. The conference consists of a variety of scientific research sessions in the form of featured plenary abstract talks, invited talks, platform presentations, and poster sessions. In addition to these sessions, the exhibitor conference—one of the most extensive meetings of industry experts and biotechnology companies—also took place at the ASHG conference.
Roughly 7000 registrants—including researchers (both seasoned and early), genetic counsellors, and industry experts—attended this year's in-person ASHG meeting at the Los Angeles Convention Center in California from October 25 to 29, 2022. The DNA Genotek team participated in both the scientific research sessions and exhibitor conference; we were delighted to interact in person with the human genetics research community and industry experts at ASHG 2022.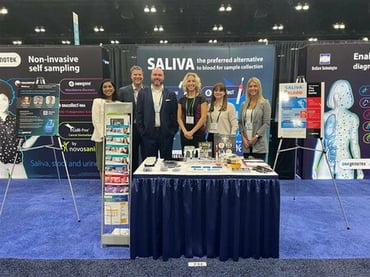 For those unable to attend, the 5-day conference covered several topics ranging from genetic insights into the COVID-19 pandemic to the growth of the African genomics ecosystem. Several of the 17 plenary talks and 22 platform presentations touched on shared themes. Highlights from the conference have been summarized below.
Post-pandemic, what have we learned about COVID-19?
Over the last two years, SARS-CoV-2 has motivated researchers to learn more about the virus and the COVID-19 pandemic, becoming a cornerstone session at several scientific conferences. As a virus infecting a human host, host genetics play an important role in the acquisition and presentation of COVID-19.
At ASHG 2022, four invited speakers each gave a short presentation describing various approaches and aspects of research on the COVID-19 pandemic including the use of multimodal proteomics and network analyses to identify molecular determinants of virus-host interaction, the clinical implications of the pandemic including genetic risk, the genetics behind vaccine side-effects, and the lessons learned from long COVID.
When conducting genome-wide association studies (GWAS) on COVID-19, one of the speakers brought up an important point: such studies must consider environmental changes—i.e., the vaccination status, of the participants. In her presentation, Dr. Elizabeth Cirulli (Ph.D.), Associate Director at Helix, San Mateo, California, discussed her group's efforts to produce the first successful GWAS of vaccine reactogenicity, acknowledging that their study came out at the same time as 23andMe's study. See how DNA Genotek products are used by our customers by clicking here and here.
The value of including diversity in sequencing projects and databases
Several platform presentations described the importance of considering human ancestry in populations when studying diseases such as type 2 diabetes, idiopathic pulmonary fibrosis, inflammatory bowel diseases, and alcohol and tobacco addictions. Many presenters noted that most prior studies on these diseases had been conducted with populations of European descent, representing both an ethical bias and research limitation.
From a research perspective, incorporating understudied and/or ethnically diverse populations (e.g., East Asian, African, Hispanic, South Asian) can provide greater insight into disease etiologies as populations can be heterogeneous in terms of disease risk or presentation. In one notable example, the use of a global multi-ancestry study population facilitated the identification of 7 novel loci associated with idiopathic pulmonary fibrosis. Had the study been limited to only a European population, only one locus would have been identified.
In another example highlighting the importance of studying diverse populations, one presenter described the human genetic variation at tandem repeats—highly variable regions of the genome that contain repeating sequence motifs consisting of one or more nucleotides. The researchers found that tandem repeat expansions can be missed in an ethnically uniform population as some tandem repeat expansions are population-specific (e.g., a CAG expansion in the CA10 gene was only specifically expanded in an African population).
One of the most well-attended sessions during the conference was the Presidential Symposium presentation on African Genomics, which provided insight into the research, technology, and infrastructure advances by the African research community. Four key speakers—Dr. Christian Happi (Ph.D.), Dr. Julie Makani (Ph.D.), Dr. Mayowa Owolabi (M.D.), and Dr. Nicola Mulder (Ph.D.)—gave a series of 10-minute talks describing their disease research (e.g., Ebola, sickle cell disease, stroke) and mentioned a range of projects and initiatives (e.g., Human Heredity and Health in Africa or H3Africa, H3ABioNet, etc.) that involve the African community. As noted by one speaker, the discoveries coming out of the African research community are not just of interest to African people (an understudied population), but to others outside the community.
Several presentations and posters used sequencing data from the All of Us project—a more ethnically diverse cohort—for their studies. All of Us is a National Institute of Health (NIH) initiative that aims to enroll one million or more people across the U.S. to construct one of the most diverse health databases in history.
Getting the most out of sequencing results
At the ASHG 2022 conference, a dedicated group of platform presentations focused on maximizing the output and results acquired from sequencing data, and several such presentations were in the context of cancer research. Leveraging off-target reads in clinical tumor sequencing, utilizing an integrated approach where RNA sequencing analysis complements DNA sequencing, and comparing exome and panel germline sequencing were just a subset of the presentations touching on this topic. Other talks shared various novel tools and approaches (e.g., GenePy, SUsPECT, choice of human reference genome used) to make the most of sequencing data used for diagnostic purposes.
The question of whether targeted panel testing (where only a subset of "target" genes or loci are sequenced for disease-causing mutations) or more expansive sequencing efforts (whole exome sequencing; WES, or whole genome sequencing; WGS) for cancer and other diseases was raised in several disease-focused talks that looked at clinical diagnosis as a topic. For example, one notable benefit of WGS is the ability to calculate polygenic risk scores.
Some researchers shared results highlighting the benefits associated with targeted panel screening (as exemplified when screening for metabolic disorders), whereas other talks focused on the screening benefits associated with WGS (as exemplified by the presentation by PerkinElmer Genomics on pediatric screening). In one presentation that assessed cost and diagnostic yield of WGS versus microarray screening in patients with neurodevelopmental disorders, the cost per diagnosed patient was shown to be 38% lower with WGS. Another presentation described how in the United Kingdom, several initiatives (including the 100,000 Genomes Project) currently aim to integrate genomics into healthcare.
---
DNA Genotek is proud to offer products that support clinical and/or basic research needs. If you are interested in exploring or expanding your DNA or RNA sample collection abilities, learn more about our Oragene™•DNA, ORAcollect™•DNA, and ORAcollect™•RNA products on our website or send us an email at info@dnagenotek.com.