2016-10-25
At DNA Genotek, we are continually being introduced to new and exciting research projects through the innovative work of our customers. I recently came across a particularly interesting study which is known as one of the largest metastatic breast cancer studies to date. The study, led by the Broad Institute of MIT and Harvard University, is called the Metastatic Breast Cancer (MBC) Project. This project caught my attention because of their unique approach to patient recruitment and engagement which is garnering media coverage across the country.
Despite advances in the treatment of metastatic breast cancer, the disease remains incurable. The research team, led by Dr. Nikhil Wagle, MD, is reaching out to patients with metastatic breast cancer throughout the USA and Canada in order to study their cancer using the latest in genomic research tools including sequencing, and they are doing it in a very unique way.
The MBC project was designed collaboratively with input from metastatic breast cancer patients, patient advocates, cancer researchers, physicians and clinical specialists. To enroll, interested patients visit the website to learn about the project, and if they are interested, they are asked to provide their contact information. Once patients are signed up, they are asked to complete a short survey about their cancer and treatment and agree to an online consent form to permit researchers to obtain copies of their medical records and perform sequencing studies on their tumor and their healthy DNA. When consent is provided, they request the patient's medical records and a portion of their stored tumor tissue. These tissue samples undergo full genomic analysis. Patients are also asked to provide a saliva sample, using an at-home collection kit to allow comparison of their tumor DNA to their genomic DNA. The saliva collection kits are an integral part of the study and allow easy, self-collection of DNA. For patients who do not live near a research center, this method allows them to contribute to a research project that might not otherwise be possible
The MBC Project team created a fun video to help people understand how to properly collect a saliva sample.
The research team's approach to recruitment for this study is unique. According to an article in The Cure Today:
"Researchers credit their use of social media and the engagement of numerous advocacy groups to support and promote the effort for the project's success to date, enabling them to recruit patients directly, rather than via patients' individual physicians and institutions. The researchers hope this proof-of-concept study may serve as a model for patient-driven research in other cancer types."
This approach is generating some interesting feedback. Patients have been posting 'selfies' on their social media accounts showing pictures of themselves and their saliva kits with the hashtag #MBCproject.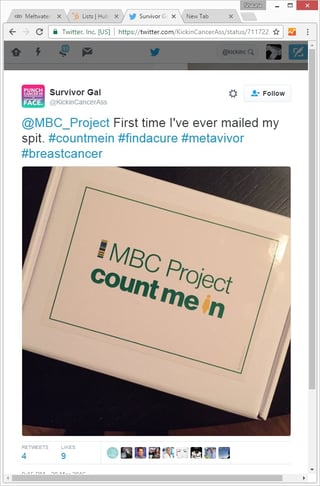 By looking at the DNA in the patient's samples, researchers hope to make discoveries that will ultimately lead to a better understanding and faster advances in the treatment of metastatic breast cancer. The de-identified genomic and clinical data generated will be shared widely for other researchers to use, enabling discoveries anywhere in the world.
To date, more than 2,000 patients from all 50 states have enrolled in the study over a seven-month period, and the numbers are growing.