2023-02-03
Kicking off the new year, the annual Precision Medicine World Conference (PMWC) took place in-person at the Santa Clara Convention Center in Santa Clara, California from January 25-27, 2023. PMWC is the largest international meeting of experts dedicated to precision medicine. At this conference, OraSure Technologies, Inc. had speakers on behalf of its subsidiary companies Novosanis, Diversigen, and DNA Genotek. If you were unable to attend any of these four presentations, we have captured the highlights for you here.
Design of a self-sampling first-void urine collection method
Brice LeFrancois, Ph.D., Senior Research & Development Manager, Technology at DNA Genotek, presenting on behalf of Novosanis
Urine can be a good indicator of overall health. As urine is an easily accessible body fluid, and as collection can be performed quickly and independently, the sample type is becoming increasingly attractive in disease detection and monitoring.
However, there are practical challenges with urine sample collection, which can affect sample quality. This presentation focused on Novosanis' Colli-Pee™ platform, an innovative solution for non-invasive urine collection and preservation.
At the start of the session, Dr. Brice LeFrancois discussed the architecture of the device and how it is built and designed to support various application purposes. The platform consists of variants, which can collect different volumes of urine (4 mL to 40 mL). The device architecture can also enable immediate mixing of the sample with a urine preservative, improving stability of the specimen for different downstream applications.
He discussed each component of the device (funnel, floater, collection tube, cap), and how they work together to allow easy urine collection. The 'ease-of-use' of the device has been reported in several usability studies.1,2
The presentation further explained the physics behind the design of Colli-Pee™ platform, highlighting hydrodynamics and buoyancy concepts of each variant. Based on these principles, the device guarantees a volumetric and standardized urine sample without interruption of urine flow. A study highlighted how our devices offer consistent, volumetric collection compared to a regular urine cup.3 The device also guarantees a first-void sample and does not allow for overfill or underfill.
He shared the journey behind the design of the device and how various components were tested before the final model was selected. The biological variability of urine flow in different individuals was also considered while coming up with the right design.
Finally, the last part of the presentation focused on the materials used to build the device. Currently, it is estimated, we have a 25% to 30% lower carbon footprint than our competitors.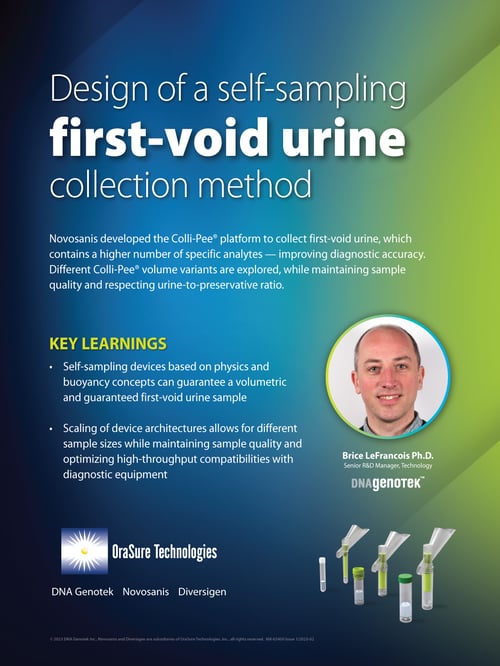 First-void urine as a liquid biopsy for disease monitoring
Jhana Hendrickx, Ph.D., Senior Scientific & Clinical Affairs Specialist at Novosanis
Liquid biopsies are emerging as revolutionary tools in disease monitoring and diagnosis. Urine as a liquid biopsy is gaining interest in oncological research. In this presentation, Dr. Jhana Hendrickx highlighted why 'yellow could be considered the new red'.
Over the last few years, a lot of research has been performed to evaluate urine for detection and monitoring of urological and systemic cancers. For example, the number of scientific and peer-reviewed publications focusing on the association between "urine and oncology", has increased significantly. Additionally, the number of clinical trials using urine as a sample type for oncology research is increasing across the world, highlighting the interest in this space.
At the start of the presentation, Dr. Hendrickx highlighted why urine as a sample type is so attractive — it allows for non-invasive sample collection, at home-sampling and contains several biomarker candidates for different disease types. However, for effective clinical applications, urine collection needs to be standardized and the sample needs to be preserved effectively. This is where Novosanis' Colli-Pee™ urine collection platform fits in.
The Colli-Pee™ device architecture enables standardized and volumetric urine collection, followed by immediate mixing of the sample with a urine preservative, improving stability of the urine specimen. There are several Colli-Pee™ device variants for different applications, and this session focused on the Colli-Pee™ 40 mL UAS™ variant, which is specifically designed for oncology research applications.
Recent R&D research showed that the UAS™ preservative to sample ratio is 2:5 for optimal preservation performance.4 The UAS™ chemistry prevents microbial growth, preserves cfDNA, maintains host cell integrity and improves preservation of EV RNA at room temperature for 7 days. Further internal studies confirmed these results and highlighted that the Colli-Pee™ 40 mL UAS™ variant can preserve cfDNA, EV RNA and maintain host cell integrity under simulated transport conditions.
We as a company are investing and working heavily in this space and our Colli-Pee™ device is part of several ongoing clinical studies. We truly believe that urine offers great potential as a liquid biopsy for cancer research and detection.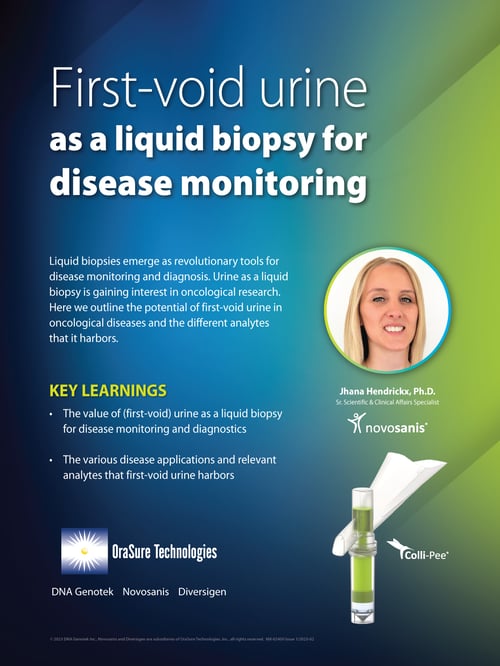 Multi-omic visualization of the human gut microbiome
Brice LeFrancois, Ph.D., Senior Research & Development Manager, Technology at DNA Genotek, presenting on behalf of Diversigen
Current research efforts have shown potential links between human health and the gut microbiome, which may play a significant role in human diseases (e.g., inflammatory bowel disease, Crohn's disease, gut-brain-axis, etc.). Most microbiome studies have utilized metagenomic (or bacterial DNA) sequencing, although emerging studies suggest that microbial RNA (i.e., metatranscriptomics) may provide more mechanistic insights and potential diagnostic indicators.
Past research efforts have looked at the impact of diet (i.e., fiber and probiotics, vegetarian versus omnivore lifestyle, and fasting) on the gut microbiome. For several reasons — including non-optimal study design or tools — the results of such studies were not always consistent and were highly cohort-specific. Previous research using metagenomic sequencing has shown that fasting can impact the gut microbial community, though some work has given conflicting results. These discrepancies raised the important question of whether DNA is a suitable analyte to assess dynamic microbial changes produced because of dietary habits.
In his presentation at PMWC 2023, Dr. Brice LeFrancois highlighted a comprehensive, multi-omics dietary intervention pilot study that brought together the expertise of sister companies DNA Genotek and Diversigen in sample collection, sequencing, and analysis.
For this pilot study, researchers from DNA Genotek collected stool samples from subjects following a modified 5:2 intermittent fasting protocol. In the study, 77 fecal samples were collected across normal/fasting diet days using the OMNIgene™•GUT DNA and RNA kit to acquire microbial DNA and RNA. To visualize the impact of intermittent fasting on the gut microbiome, microbial DNA was processed through Diversigen's metagenomics pipeline (~20M reads/sample) while microbial RNA was processed using Diversigen's metatranscriptomics pipeline (~30M reads/sample). Both sample types were used to characterize taxonomic, functional, and CAZyme (Carbohydrate Active enZyme) content changes between normal and fasting samples.
Notable findings — including several that highlighted the benefits in using a multi-omics approach — were discussed. For example, using metatranscriptomics, the researchers were able to identify CAZyme abundance patterns that were not observed using metagenomics, the RNA data revealed greater individual microbiome responses to intermittent fasting than the DNA data, and finally incorporating RNA-level data improved the identification of functional features impacted by diet.
Overall, the researchers found that intermittent fasting induces highly personalized gut microbiome responses. Similar taxonomic and functional features were observed from both DNA and RNA, though the changes captured from the RNA-level data were far more dynamic (i.e., in terms of functional, CAZyme, and AMR content). In sum, metatranscriptomics can capture information that metagenomic sequencing cannot detect. In the future, the research team plans to continue exploring their data in a multi-omics/precision medicine context to answer questions such as:
What drives individual response to fasting/diet?

Which microbial biomarkers can help predict response?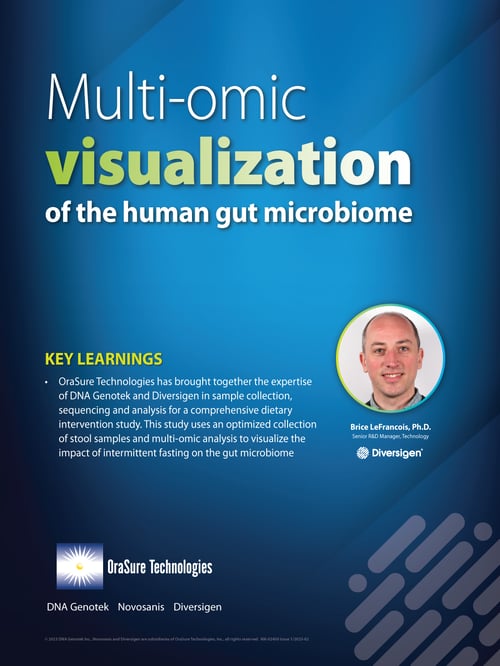 Molecular diagnosis with NGS for neurological and infectious conditions
Chaired by Scott Rabuka, Senior Director, Molecular Products at DNA Genotek
Frank Middleton, Ph.D., Professor & Scientific Director, SUNYMAC, Upstate Medical University
Forrest Wright, Ph.D., Director of Assay Development, Quadrant Laboratories
Saliva contains a mixture of white blood cells, epithelial cells, and bacteria; up to 74% of DNA in saliva is derived from the white blood cells. Saliva is a non-invasive alternative sample type for liquid biopsy applications and a good source for both DNA and RNA, including small, non-coding RNA (ncRNA) such as microRNA (miRNA).
The panel chair, Scott Rabuka, introduced the two speakers who have worked together and used DNA Genotek's ORAcollect™•RNA (ORE-100) kit. First to be introduced was Dr. Frank Middleton, Professor and Scientific Director at SUNY (State University of New York) Upstate Medical University and the founder and director of SUNY Molecular Analysis Core Facility which specializes in Next Generation Sequencing (NGS) analysis. Dr. Middleton's research using multi-omic approaches led to the scientific discoveries of the role that RNA plays in several brain diseases (e.g., early diagnosis of autism spectrum disorder (ASD), Parkinson's disease, and mild traumatic brain injury). Next, Scott introduced Dr. Forrest Wright, Director of Assay Development at Quadrant Laboratories. Dr. Wright leads his team in the development of novel saliva-based assays with a focus on neurodevelopmental and neurodegenerative diseases and disorders.
Dr. Middleton began by discussing the recent research success his team has had — done in collaboration with Quadrant Biosciences — in harnessing the power of saliva for the development of diagnostic tools for multiple brain disorders and infectious diseases (i.e., ASD, Parkinson's disease, concussion injuries, COVID-19). Their research utilizes the combination of saliva samples, NGS, and artificial intelligence to create a new standard of molecular diagnostic tools. In summary, Dr. Middleton emphasized that saliva-based multi-omic analysis revealed consistent changes in human and microbial RNA molecules that could be leveraged for early diagnosis in brain disorders or infections. Next, Dr. Wright finished off the session by discussing how scientific findings are internally validated, optimized, and tested to harness their analytical potential in creating diagnostic tests, before going over current products in development.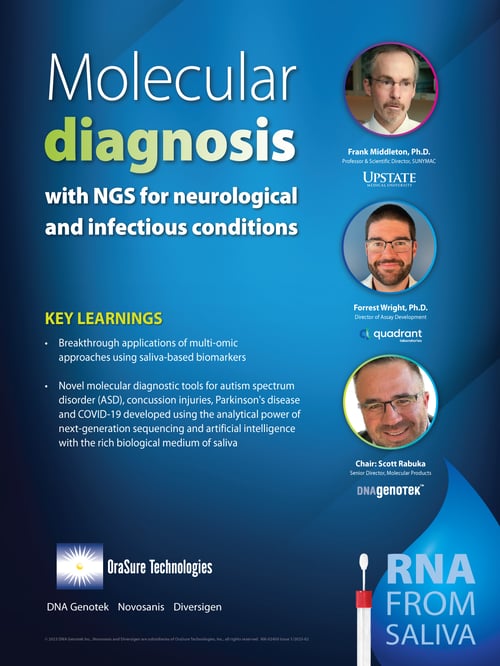 References
1. Provinciael T, Van Mulder T, Figueiredo C, Donné J, Leeman A, De Baetselier I, Crucitti T, Vuylsteke B, Van Keer S, Pattyn J, Beyers K, Vorsters A, Vankerckhoven V. (2018) Usability of the Colli-Pee: a first-void urine self-sampling device. [Poster Presentation].
2. Scalco Vasconcelos D, Jordaens S, Hendrickx J, Van den Bossche R, Meers N, Van Keer S, Téblick L, Beyers K, Vorsters A, Vankerckhoven V. (2021) Usability evaluation of Colli-Pee small volumes for HPV-based cervical cancer screening (CASUS). [Poster Presentation]
3. Meers N, Donné J, Beyers K, Van den Bossche R, Van Mulder T, De Baetselier I, Crucitti T, Wong J, Iwasiow R, Doukhanine E, MacDonald K, Urlings J, Ceccarelli B, Wauben P, Vankerckhoven V. (2019) Standardized and volumetric collection of first-void urine for detection of STIs and HPV: A comparison between Colli-Pee and a standard urine cup. [Poster Presentation]
4. Novosanis. (2022) UAS™ - Preservative for stabilization of urinary analytes. [Brochure]